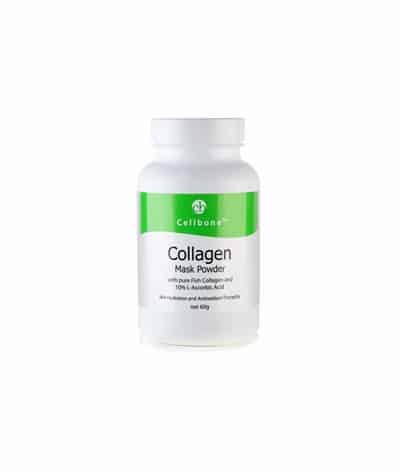 Availability: In stock
Buy 3 of Any Products And Get 1 Free
Collagen Mask powder is enriched with 10% L-Ascorbic Acid and Vitamin B5 to provide protein nourishment and antioxidant to the skin. Collagen is a nourishing treatment recommended for all types of skin.
Collagen can only be absorbed as a low molecule weight from 100% pure collagen. Due to the lower molecular weight, there is a greater soluble capacity and it penetrates deeper into the skin.
About one-third of all of the protein in your body is collagen. Collagen is a major structural protein, forming molecular cables that strengthen the tendons and vast, resilient sheets that support the skin and internal organs.
Fish Collagen powder is imported from Germany.
RECOMMENDED USAGE LEVEL:
1 to 20 % Fish Collagen powder is completely water soluble.
DIRECTIONS
How to use this Collagen powder, see Collagen Recipe
.
CAUTIONS
Avoid direct contact with the eyes. For external use only.
STORAGE
Store in a cool, dark place
INGREDIENTS
Pure Fish Collagen, L-Ascorbic Acid, Pantothenic Acid.