Offering skin protection, repair, and hydration – the newest Cellbone serum has a specific function to perform relevant to the 21st century of electronic devices.
Let's be honest…. most of us would spend considerable time in front a computer screen or scrolling the phone daily. In recent times, information has come to light regarding the harmful rays of blue light devices like phones, laptops, TV's, computers, and iPads are emitting.
As we all know, the harmful rays of the sun can wreak havoc on our delicate skin, and it comes as no surprise that sunlight is one of the other major sources of blue light. So, mix the digital devices we sit in front of daily with the sunlight outside and that is a whole lot of potential harm occurring to the skin.
Blue light causes oxidative damage which leads to a breakdown in collagen, aka ageing! Other conditions such as melasma, pigmentation, broken capillaries, acne and scarring can all be exacerbated by blue light exposure.

Here comes our hero, the blue light defense serum!
This serum specifically contains Lumicease, a radiation-resistant microorganism that is obtained through biotechnology. Offering protection from both artificial blue light induced damage and solar blue light damage, it also contains Bonicel, a potent probiotic active ingredient that increases skin hydration and elasticity, reducing the appearance of fine lines, wrinkles, roughness, pore size and redness.

Other key ingredients include niacinamide (vitamin B3) to balance hydration levels and repair barrier function and hyrolyzed pea protein to prevent trans-epidermal water loss.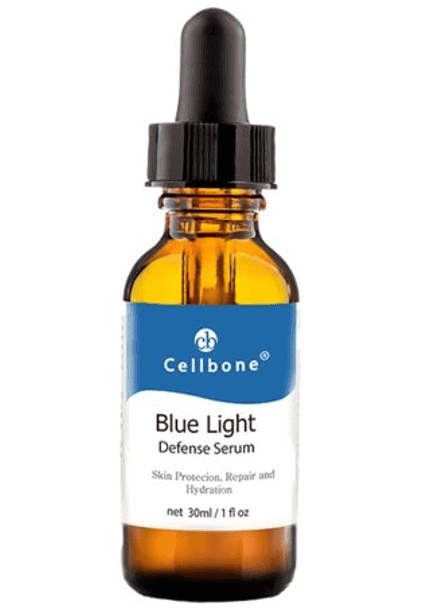 The benefits of using the blue light serum are:
Fights off free radicals that cause damage to the skin
Protects the skin from oxidative stress caused by blue light while using electronic devices
Slows down and decreases the breakdown of collagen
Stimulates collagen production
Reduces redness and prevents pigmentation
Prevents acne breakouts
Thankfully this serum is suitable for absolutely everyone! It is recommended to use every morning and evening, by applying 2-3 drops onto freshly cleansed, dry skin. Any other prescribed serums, moisturisers and sunscreens can be applied on top.


By Riley McDonald
Dermal Therapist