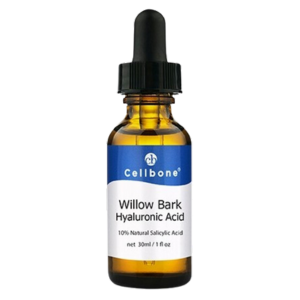 Willow bark is a potent natural extract that has been used in traditional and historical medicine for various purposes, including that of skin health.
Today we shine the spotlight on Willow Bark Hyaluronic Acid, a potent gel serum that provides hydrating benefits AND exfoliates dead skin cells. Why do you need this? Well, the exfoliation process reduces excess sebum, leaving the skin smooth, supple, congestion and break-out free. The active living water of the willow bard acid, obtained from the willow bark tree, vigorously combats acne and shrinks pores.
Salicin is the primary component of Willow bark and is highly revered for its natural exfoliating properties. The is a non-irritating solution to blackheads, whiteheads, clogged pores, and acne.
Benefits of Willow Bark Hyaluronic Acid:
Gently exfoliates dead skin cells
Repairs skin cells
Alleviates itchiness
Calms & soothes skin
Combats fee radical damage that cause ageing
Controls sebum production
Hydrates
Reduces acne
Shrinks pore size
Alleviates inflammatory conditions like eczema, psoriasis and rosacea
Suitable for: acne prone, oily, ageing, sensitive skin
How to use: morning and evening apply 2-3 drops daily to clean dry skin, following with Cellbone moisturiser or SPF of choice
By Riley McDonald
Dermal Therapist